Rift Valley County Commissioner, Abdi Hassan dispelled reports that bandits overpowered and murdered officers involved in the ongoing Operation Maliza Uhalifu (OMU) in the North Rift.
On Thursday, February 23, Hassan insisted that the reports were false and misleading and further pinpointed that social media users propagated them.
Hassan indicated that the press briefing regarding the Operation will be done at Regional level, and any other information should be treated with contempt.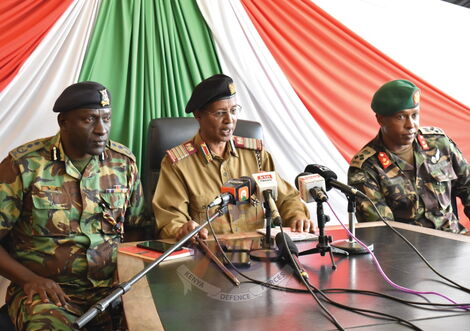 Rift Valley County Commissioner, Abdi Hassan,(Center) during a joint media briefing on Thursday February 23, 2023.
KDF
This was after a bandits ambushed Kenya Defence Forces and police officers in Kainuk, engaging them in a fierce shoot-out. However, the security officers repulsed the armed bandits.
Two armed men were also apprehended following the daring attack on law enforcement officers. 23 guns were also recovered in the exercise spanning several days. 
 The Regional Commissioner further promised to maintain high professionalism throughout the operation, only targeting criminals.
"The law abiding citizens in the gazetted areas should not be worried, they won't be targeted neither harassed.
"We have our intelligence led operation that will only smoke out criminals, and so I appeal to the citizens here to collaborate and support the government agencies," Hassan insisted.
His sentiments came after a section of residents in the disturbed areas raised fear of being caught up in the ongoing joint operation aimed at flushing out bandits.
Additionally, they urged the government to employ different tactics to flush out the bandits in North Rift. 
"We will not start from scratch but rather work together with the special operations teams and come up with more effective approaches to curb the menace and we appreciate that now KDF is on board," the Regional Commissioner further indicated.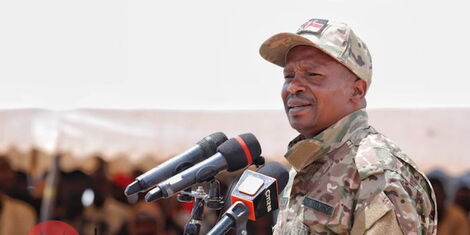 An image of the Interior and National Administration Cabinet Secretary Kithure Kindiki at a past event.
Twitter
Ministry of Interior
criminal
harass
armed
gun
murder
armed
Source: kENYANS.CO.KE