Prime Cabinet Secretary Musalia Mudavadi on Thursday, November 24, recounted a moment when he was forced to hide at a friend's home for more than one week during the 1982 abortive coup.
Mudavadi, then a youthful son of a high-ranking Cabinet Minister in former President Daniel Arap Moi's government, Moses Mudavadi, enjoyed special status among his peers.
However, his close association with the government of the day landed him in trouble during the abortive coup of 1982.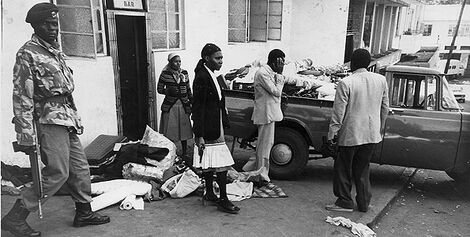 Security officers restore order amid widespread looting in Nairobi city during the 1982 coup attempt.
File
"In 1982, when there was an attempted coup and I was still in the university. I was residing in the UON hostels," he narrated in an interview on TV47.
As a student at the University of Nairobi, Mudavadi found himself at the centre of the then-acrimonious politics, during which Kenyans demanded more democratic space.
Mudavadi was left pondering his way out of the university premises at a time when anti-government protesters had flooded the streets. 
 He narrated that he was going about with his activities as a student in Nairobi when news about the skirmishes broke. 
"Being the son of a prominent person in government I knew I would be a target of the coup plotters who were opposed to the establishment,' he added.
Suddenly, the young Mudavadi, alongside his peer students, were stranded owing to the proximity of the institution to Nairobi Central Business District (CBD), which was the epic centre of the demonstrations. 
He went on to explain how his friend from Othaya, in Nyeri County offered him a safe haven in a much-needed time. 
However, tension de-escalated after loyal soldiers contained the coup. Ten years later, Mudavadi made his debut in politics and was appointed as a cabinet minister.
While speaking in the interview, Mudavadi attributed his experience in governance to his early years in President Moi's cabinet.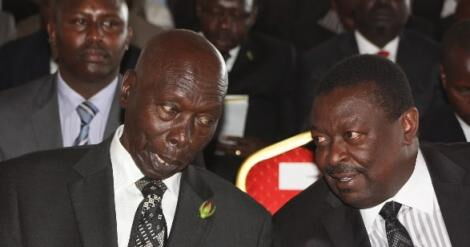 An undated image of Musalia Mudavadi having a talk with the late President Moi at a past event
Kenyans.co.ke
Source: kENYANS.CO.KE