Azimio leader Raila Odinga on Saturday, February 18, met leaders drawn from the Nyanza region in Kisumu amid growing rebellion within his camp.
Following the deliberations, the former Prime Minister unveiled a 26-point resolution which was termed as Declaration of the People.
The resolutions centred on fears the region had over President William Ruto's presidency.
"Kisumu as a city and the whole region has contributed immensely to national greatness and progress on all fronts.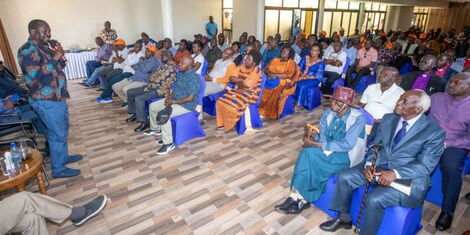 Azimio Leader Raila Odinga addressing leaders from Nyanza region on February 18, 2023.
Twitter
Raila Odinga
"We do not shy away from wars that matter but we have fears now, fears that have made us gather here," the letter read in part.
On top of the region's fears was that the window was closing on the rights and the freedoms the region fought for as Kenya Kwanza was clamping on those gains.
"Elections now mean nothing and the suffering of the people now counts for nothing.
"Election fraud has become the norm and we need to free this country from the curse of elections whose results are predetermined," the region lamented.
The Declaration further faulted Ruto for poaching opposition parties claiming the country was heading towards a one-party rule.
"We have to ring-fence multiparty democracy and ensure it is irreversible. This will be key in ending the fear of illegitimate authority," the letter read in part.
In the letter, Odinga maintained that the Kenya Kwanza government was not legitimate and qualified to lead the country for posterity.
"We need to be governed by people who understand and subscribe to ideals of integrity and are aware of what is needed to run the government," the current government was criticized.
Lastly, the region lamented what it termed a vicious push to accept and move on.
The meeting was attended by governors, deputy governors, members of parliament, elders and clergy drawn from Siaya, Kisumu, Migori and Homa Bay counties.
Raila Odinga addresses residents of Kisumu Town on February 18, 2023.
Twitter
Raila Odinga
Source: kENYANS.CO.KE