President Uhuru Kenyatta on Tuesday, March 10, sent Interior Cabinet Secretary Fred Matiang'i to Ethiopia to further talks on cross border relations between Kenya and Somalia.
Matiang'i led a team of five to the country to engage Prime Minister Abiy Ahmed in discussing collaborative approaches to bringing an end to the dispute that has strained diplomatic ties between the two neighbours. 
"Interior CS, Fred Matiangi, led a team of high-ranking government officials sent by President Uhuru Kenyatta to hold talks with Ethiopia's PM Abiy Ahmed Ali with a view to identifying more collaborative approaches to advance Kenya's mutual cross-border relations with Somalia," the ministry stated in a statement.
Others in the Kenyan delegation were the Vice Chief of Defense Forces, Leutenant General Robert Kibochi, Kenya's Ambassador to Somalia Major General (Rtd) Lucas Tumbo and Secretary of Internal Security Moffat Kangi.
Interior CS Fred Matiang'i greets Somali President Mohammed Farmajo after their meeting in Somalia on Sunday, March 8, 2020.
Twitter

The 2019 Nobel Peace Prize winner is touted as one of Kenya's best bet at brokering an out-of-court deal between Kenya and Somalia over the protracted maritime border dispute.
In 2019, Abiy orchestrated talks between President Kenyatta and Farmaajo, facilitating a closed meeting between the two heads of state. 
The meeting came a day after the Interior CS held talks with Somalia's President Mohamed Farmaajo in Mogadishu.
Matiang'i had led a team of five to Mogadishu to engage Farmajo on the sustained tension at the Kenya-Somalia border with reports indicating that Jubaland forces had crossed over to the border town of Mandera.
The meetings come with a backdrop of escalated tensions between the two countries that saw Kenya issue a cease and desist warning to the Federal Republic of Somalia.
On Wednesday, March 4, President Kenyatta chaired a special session of the National Security Council (NSC) where he fired a warning to Somalia over border breaches.
This was prompted by accusations made by Somalia Ambassador Abukar Dahir Osman in New York, in February 2020.
"We, therefore, urge the Federal Government of Somalia, to cease and desist from the unwarranted provocations and focus on managing its internal affairs for the welfare of her people; defeating terrorism; and advancing the cause of peace, security, and stability in the region," a statement by the head of state read in part.
Uhuru further urged Somalia to stop what he described as a smear campaign and commit the energy to deliver leadership and prosperity to its own people.
Somalia-based broadcaster, Radio Garowe, reported that the talks between the two countries which included a phone conversation between Farmajo and Uhuru were, in part, due to pressure from the United States' government. 
Image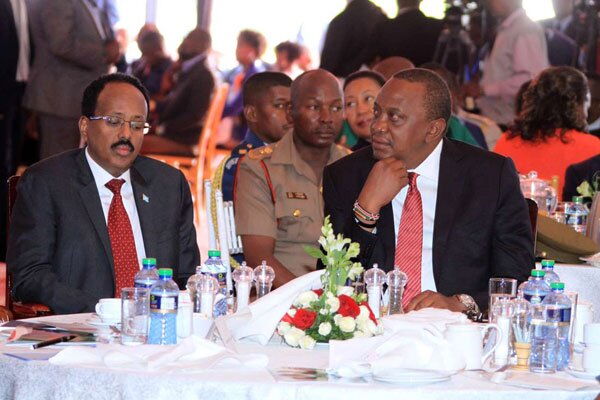 President Uhuru Kenyatta (right) and his Somalia counterpart Mohamed Abdullahi Farmaajo follow proceedings during Kenya's 16th annual National Prayer Breakfast at Safari Park hotel in Nairobi on May 31, 2018.
Facebook