The Salaries and Remuneration Commission (SRC) has maintained its decision to scrap the Ksh8.7 billion sitting allowance for Members of Parliament.
SRC chairperson, Lyn Mengich, maintained that the Ksh710,000 salary that had been set for the legislators was enough for the elected leaders.
She added that the capped salary was arrived at after considering the mandate of the lawmakers.
"Your basic pay of Ksh710,000 takes into account all the functions that are discharged in line with the constitutional provisions of oversight, representation and lawmaking.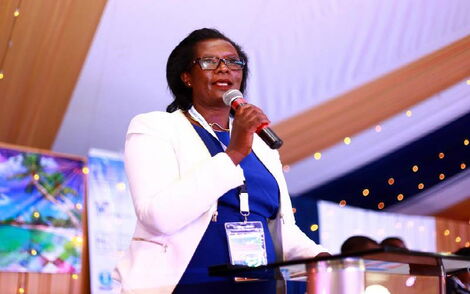 Salaries and Remuneration Commission chairperson Lyn Mengich
File
"It includes what you do in plenary sessions, committee meetings and even visiting your constituency. It's all an inclusive pay that speaks to the entire role," Mengich told MPs.
The stand of SRC comes after details of a stormy five-hour meeting between the commission and the MPs emerged.
In the Wednesday, September 21 meeting, the legislators had demanded SRC reviews their pay which they argued was inadequate for their national mandate. 
Other demands that the legislators wanted to be implemented were the leeway to have vehicles exceeding 3000cc and the car grants.
In response, SRC maintained that the move to have cars above the 3000cc cap would be costly to taxpayers citing the high consumption and cost of fuel. 
However, the commission indicated that it would hold talks with the parliamentary leadership over the car grants.
The decision by SRC to cap MPS salaries saw some of the legislators threaten to cut the commission's budget if it failed to heed their demands.
Despite sitting allowance being scrapped, the MPs are entitled to committee allowances with the maximum amount capped at Ksh120,000.
"For MPs it's actually above that. From the Gazette Notice, the pay was Ksh710,000 before we add the allowances for committee sittings which adds up to a maximum of Ksh120,000, translating to Ksh830,000." Mengich stated in August 2022.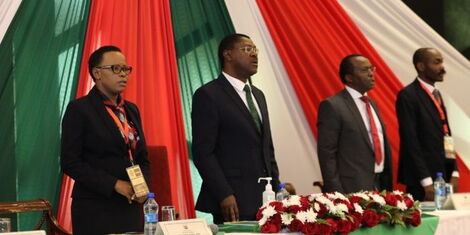 National Assembly Ag. Clerk Serah Kioko, Speaker Moses Wetangula and Justice Daniel Musinga attending the induction retreat at the Safari Park Hotel, Nairobi, on Monday, September 19, 2022
National Assembly
Source: kENYANS.CO.KE