Renowned political analyst Mutahi Ngunyi has etched a name for himself as one of the most outspoken pundits in Kenya's political arena.
He has mastered the art of delivering witty and thought-provoking punchlines that often leave observers in stitches and victims in actual stitches.
Uknown to most, Ngunyi's journey started in Maringo Estate 'Marish', Nairobi in the 1970s where he grew up next to some of Kenya's political bigwigs.
Mutahi Ngunyi (left) and K24's Anne Kiguta engaging in conversation during the Punchline show on March 1, 2020.
K24 Digital
"One of our neighbours was a man called Jaramogi Oginga Odinga. He owned a flat in a place called Jerusalem 'Salem' and had a beautiful white Mercedes. When he would show up, I used to go and take care of his car,"
"I think that is why I have always been so fascinated by the Odinga's," he revealed while speaking to Sophia Wanuna in an interviewed that was aired on September 15, 2015.
An Aquinas High School, Nairobi, alumnus, Ngunyi did not try to hide the fact that he was not a straight-A student.
"I was always number 38/39 in high school. However. In Form 4 I finally woke up and went on to be the only student to earn a distinction in Mathematics, but  I still opted to pursue history," he narrated.
Ngunyi has grown into arguably one of the most sought after political analysts in the country.
His ability to back his often explosive insights with evidence could explain why his statements often lead to lengthy debates.
The scholar has also taught in a number of schools such as the University of Nairobi (UON), Scandinavian Institute for African Studies (SIAS), and the University of Leeds as a visiting Research Fellow. 
He has also taught at Institute for Policy Analysis and Research as an Associate Research Fellow, and the University of Helsinki, Finland before founding the Fort Hall School of Government. 
Despite his enviable accolades, the eloquent analyst was very passionate when narrating how he was among the elite group of 'Marish' boys who invented a language of their own, 'Sheng', to ensure that their secrets were safe.
"The boys who grew up in other places, we wouldn't let them come into our space. We coined sheng to seclude ourselves from them, to maintain our identity. It was a fusion of all our mother tongues," he explained.
He recently caused quite a stir on Twitter when he stated that he was the man behind Deputy President William Ruto's 'hustler' persona.
"I created the hustler nation. I created the hustler vs dynasty fight. Check history. And then I made it fashionable for a chicken seller to own a Ksh1.2 billion village house. True or not?" he stated on May 7.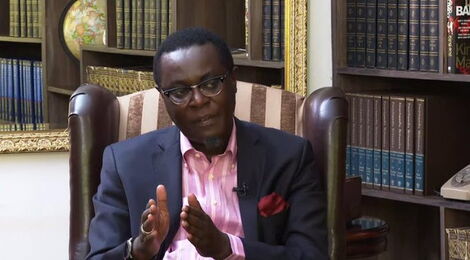 Mutahi Ngunyi speaking during the K24's Punchline show on March 1, 2020.
K24 Digital