With the government not relenting in its effort to stump out banditry in the northern part of Kenya,  Pokot South legislator David Pkosing's chopper on Saturday, February 18 was analysed by forensics over its involvement in banditry.
Serious Crimes detectives and Forensics experts from the Directorate of Criminal Investigations (DCI) took two hours at the Wilson Airport getting forensic reports from Pkosing's chopper.
The green and white helicopter, number 5Y-DPL, is suspected to have been used to transport seven men who had been arrested and released by the Kitale Law Courts over suspected involvement in banditry at Kainuk Turkana County.
Equally, six photos of the chopper were taken by the detectives as part of the investigations.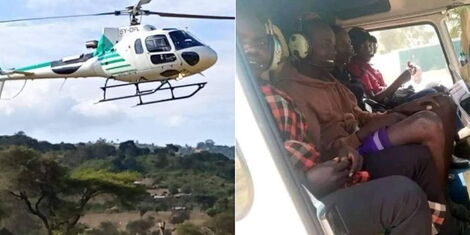 A photo collage of the suspected chopper airborne(left) and the suspected bandits aboard the chopper (right)
Twitter
Insecurity KE
According to the legislator's lawyer Danstan Omari, Pkosing was falsely accused.
"Every helicopter starts its journey from Wilson Airport. It is cleared and given directions. Everywhere it lands the director of civil aviation has data. The helicopter itself has gadgets that capture the route it goes," Omari stated.
"There's no possibility at all for a helicopter to ferry guns. What Kenyans are being told is that my client has the capacity and immunity to carry guns to Wilson Airport, load them and supply them," he added.
On his part, Pkosing stated that the group of young men in the chopper were suspects whom he paid bond for on one occasion.
"Is it a crime to help someone pay bond or cashbail? Those people were given a cash bail of Ksh 10,000 each," he posed.
The seven suspects had been arrested after police allegedly shot and killed over 200 cows in West Pokot.
On Friday, February 17, the embattled Pokot South Legislator was interrogated over suspected involvement in banditry in West Pokot and neighbouring counties.
According to his lawyer, the MP was summoned to answer to issues of the commercialization of bandits, and that the cows being stolen are normally handed over to him.
Pkosing has however labelled himself as a peacemaker.
"I was in the Peace and Justice Commission before I became an MP. Everyone knows that. I have never written a police statement anywhere in my life," he affirmed.
Detectives from the DCI informed the MP that they would contact him on Monday, February 20 if need be for further clarification.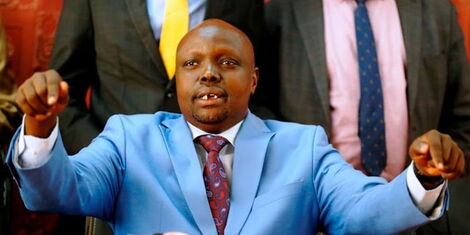 Pokot South Member of Parliament David Pkosing addresses a past media briefing.
Citizen Digital
gun
stolen
arrest
killed
suspect
Source: kENYANS.CO.KE