Ruth Karauri, a Kenyan pilot took to social media on Saturday, November 12, to explain how pilots navigate the airspace to their destinations with ease.
Ruth is a Boeing B787 Captain with the national carrier and wife to Kasarani Member of Parliament Ronald Karauri who also doubles up as a pilot.
She also fielded questions from her fans on various aviation topics that many were not aware of.
"How do pilots know where they are going? Simply put, there are 'roads' in the air which are called airways. So let's say I'm flying from Nairobi to Entebbe. I have to be on a certain airway which in this case is UL433," she paused.
An image of an airway navigation flight path.
Twitter
Ruth Karauri
She explained that airways are referenced to navigation aids (navaids) which are like radios.
They transmit signals which are received by the plane when the Navaid frequency has been tuned on the plane. In our example, airway UL433 connects 2 navaids
"NV in Nairobi and NN in Entebbe. I need to know the bearing from the NV and I will find this information on charts and maps like the one in the picture," she added.
Karauri took questions from her followers. "When you are using a particular airway, say from point A to B, do the aeroplanes at point B to A get notified not to use that particular airway you're already using?" a Facebook user asked.
"Planes flying westbound will use even flight levels (300, 320, 340 etc) and those flying eastbound use odd levels (310,330,350 etc)," she explained.
Another curious Kenyan sought to know from the celebrated pilot how the airways are constructed. 
"How are those airways constructed without physical engineering works in the sky? How do you overtake another plane amid air?" he inquired.
In a rejoinder, Karauri informed him that airways are just imaginary lines like the equator. 
"It's just an imaginary line, like the equator. Nothing physical. Overtaking is only don't if you're at different altitudes."
On the issue of turbulence and whether it affects the airway, Karauri stated that for turbulence they usually descend or climb.
"In actual fact, most planes have GPS and will use it as the primary means of navigation. Also for turbulence we usually descend or climb. Diverting from the airway is mostly for cloud build-up," she explained.
Karauri revealed that it costs a whopping Ksh5 million, to train a pilot. This probably explains why the country has few qualified pilots.
She is famous for landing a plane in a storm at London Heathrow airport against Storm Eunice in the United Kingdom.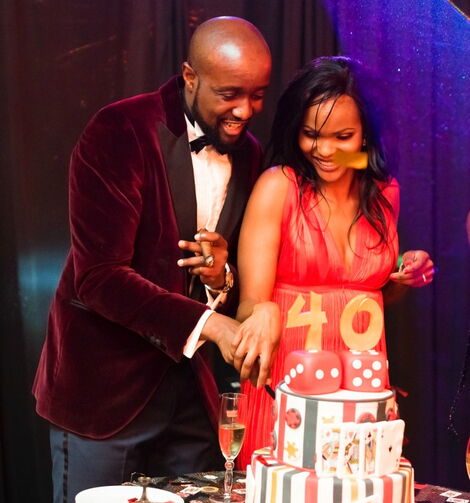 Sportpesa founder Ronald Karauri (left) and wife Ruth Karauri at a party.
File
Source: kENYANS.CO.KE