Energy Cabinet Secretary (CS) nominee Davis Chirchir was put to task to explain how he earned nearly double President William Ruto's salary when serving as his Chief of Staff.
During his vetting on Tuesday, October 18, the Deputy Leader of Minority Robert Mbui sought to know how he earned Ksh2.05 million average monthly income between January 1 and August 9.
He explained that the Ksh18.48 million figure he indicated on his wealth declaration form was an aggregation of all his sources of income.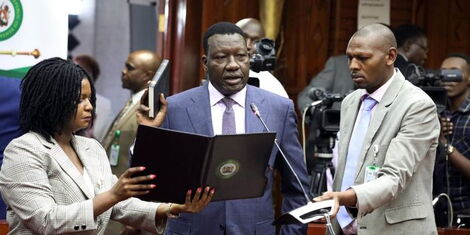 Energy CS nominee Davis Chichir takes an oath before his vetting by the National Assembly Vetting and Appointments Committee on Tuesday, October 18, 2022.
The National Assembly
"In 2022, I earned Ksh3 million between January and March from the sources and earned a salary for six months at a taxed net amount of about Ksh764,000," Chirchir stated.
Chirchir, a former Energy Cabinet Secretary, maintained that the pay was in line with the wage recommended for the Chief of Staff in the Office of the Deputy President. He added that the lion's share of the earnings was due to a grant.
"I utilised a car grant which is Ksh10 million which is currently available to that office. The breakdown explains the figure indicated," the CS candidate noted.
The Kathiani MP had raised concern after his arithmetic calculation of Chirchir's wage in the nine months averaged Ksh2.55 million, twice the salary recommended for DPs.
"On his sources of income, he indicated that he worked in the office of the DP as a Chief of Staff and earned Ksh 18,448,000. Assuming he started working on January 1, it means that he was earning on average Ksh2,527,000 per month.
"Is this the official public wage bill approved by SRC considering that the DPs Salary is only Ksh1.2 million monthly?" Mbui posed.
At the onset of the interview, Chirchir indicated that his net worth was estimated at Ksh482.2 million – earnings from salaries working as a public servant and multiple investments.
Some of the sources he mentioned include a rental property in Westlands valued at Ksh50 million and investment in a family tea value addition business.
He also owns a house in Spring Valley, vehicles, and has money stashed in bank accounts.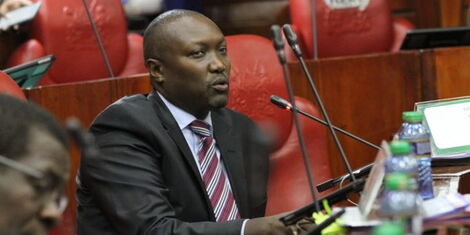 National Assembly Vetting Committee member and Deputy Leader of the Minority Robert Mbui on Tuesday, October 18, 2022.
The National Assembly
Source: kENYANS.CO.KE