A lady was left battling for life in intensive care unit after a planned house party with a Facebook lover turned tragic.
According to Directorate of Criminal Investigation statement dated Friday February 24, the lady travelled from Nairobi to Meru following an invitation from the her facebook lover.
Convinced by the house party preparations, the lady travelled with her friend to meet her facebook lover in Meru.
Along the way, the man identified as Patoo changed the venue, forcing them to board another vehicle heading to Maua.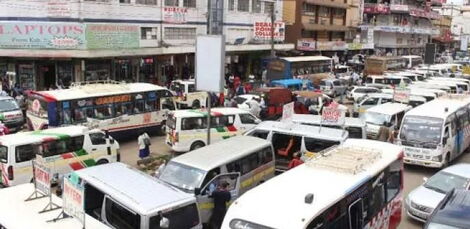 A file image of matatus parked along Accra road in Nairobi County.
"After vehemently apologising for the sudden change of the party venue, Patoo led them to a dark path which he said would lead to their final rendezvous," DCI's statement read in part.
"But the city babes, who had never experienced such darkness in their lives started screaming," it added.
Overpowered by their screams and battles, Patoo reportedly stabbed the lady leaving her in critical condition. Area residents rescued and rushed her to the nearest medical facility, where she was attended to and transferred to another facility for specialised treatment.
"Patoo immediately reached for a knife and stabbed her on the shoulder before fleeing into darkness," the statement added.
DCI detectives launched the manhunt for the suspect following the attack. Further, detectives pleaded with the public to share information leading to the suspect's arrest.
The attack came months after DCI warned Kenyans over online scams and traps leading to lose of money and abductions.
Sleuths revealed that some perpetrators had opened multiple Facebook, Twitter, and Instagram accounts to dupe unsuspecting Kenyans into chasing financial security, jobs, and other favours.
To help address online scams, DCI opened a hotline 0800 722 203 urging Kenyans to report crime in real time.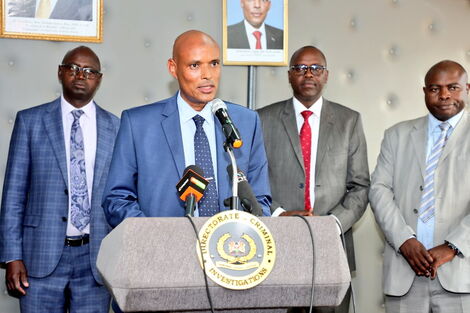 DCI boss Mohamed Amin addressing the media at his office in Nairobi County on February 9, 2023.
Twitter
DCI
criminal
abduction
arrest
suspect
scam
stabbed
Source: kENYANS.CO.KE