Nairobi Governor Mike Sonko's lawyer Kipchumba Murkomen, on Wednesday, February 26, cast doubt on President Uhuru Kenyatta's takeover of key Nairobi County duties.
Speaking at the Senate on Wednesday, February 26, the lawmaker argued that the decision to surrender key county functions to the national government was an affront to the people of Kenya and the residents of Nairobi many of who were questioning its constitutionality, legality and the resultant effect on service delivery.
The Elgeyo Marakwet senator said State House's reference to Article 187 as the guiding law for the transfer of the functions was a futile attempt to cleanse a flawed process.
Devolution CS Eugene Wamalwa (left) and Nairobi County Governor Mike Sonko (left) shake hands after signing the deed of transfer of functions on Tuesday, February 25, 2020 at State House, Nairobi
Twitter
"The Gazette Notice communicating the purported transfer of the functions of the Nairobi City County Government to the National Government raises weighty and grave questions of a constitutional and legal nature, particularly in the context of the devolved system of governance that is a key cornerstone of our Constitution.
"Article 187 of the Constitution contemplates a situation where a function or power at one level may be transferred to a government at the other level by agreement between the governments. This Article (187) and Part III of the Intergovernmental Relations Act, 2012 provide detail, on amongst others, the conditions to be met before such a transfer, the criteria for such transfer and the procedure that is to be followed in the processing of a transfer," argued the senator.
He further noted that the agreement was availed to the public after the transfer had occurred which, he argued, was against the constitution. 
"The Deed was executed yesterday, February 25, 2020. The views of the public are now sought on a Deed that has already been executed. In effect, the people of Kenya have been denied the opportunity to decide, at the outset, whether or not the functions of the County Government should be transferred to the National Government.
"To say that the Agreement contravenes the provisions of the Constitution and the law with respect to public participation is an understatement.," he continued.
Murkomen is representing Sonko in the ongoing fraud case in which the governor is accused of swindling up to Ksh357 million from public coffers.
On Tuesday, February 25, Sonko and Devolution Cabinet Secretary Eugene Wamalwa in concurrence with Uhuru signed an agreement in which functions of the Nairobi County Government were handed to the National Government.
State House Spokesperson Kanze Dena, stated that the handing over was done in pursuant to Article 187 of the Constitution. 
The signing of the agreement was witnessed by the Speaker of the Senate, Kenneth Lusaka and Attorney General, Paul Kihara.  
The government will, henceforth, take over the functions of the Nairobi County Government including;
i) County Health services
ii) County Transport services
iii) County Public Works, Utilities and Ancillary services
iv) County Government Planning and Development 
Image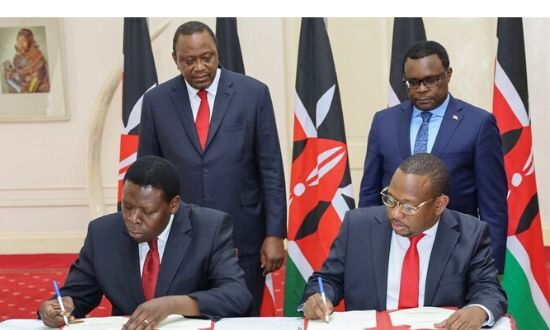 Governor Mike Mbuvi Sonko and Devolution Cabinet Secretary Eugene Wamalwa in concurrence with H.E President Uhuru Kenyatta, signed an agreement, handing over functions of the Nairobi County Government to the National Government
PSCU