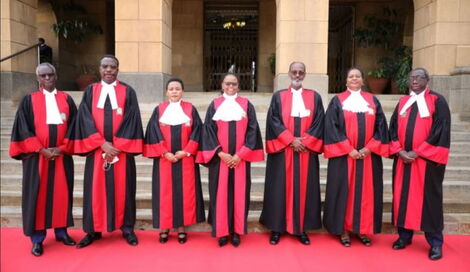 Former Nairobi governor Mike Sonko has sued the Supreme Court over claims of bias and unfair hearing that ultimately cost him the Mombasa gubernatorial seat in the August 9, General Election. 
In the petition filed before the Constitution Court in Mombasa County, Sonko argued that the apex court erred in judgment after failing to grant him a fair hearing.
Through his lawyers, Sonko added that he lost funds campaigning for the Mombasa gubernatorial seat in the August 9 elections.
The politician sought Ksh35 million to compensate for the loss of campaign funds and Ksh15 million as damages for contravening Article 50 of the Constitution.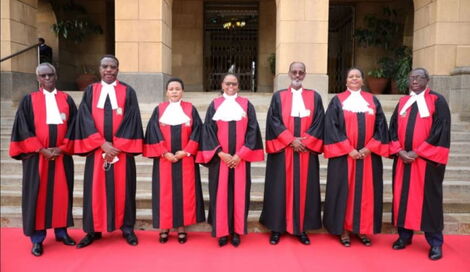 Lady Justice Martha Koome (center) and the other members of the Supreme Court bench.
File
Article 50 states that every person has the right to have any dispute that can be resolved by the application of law decided in a fair and public hearing before a court or appropriate, another independent and impartial tribunal or body.
His lawyers further asked the High Court to investigate the constitutionality of actions by all state organs including superior courts.
"I spent considerable amounts of funds in the political process to vie for the position of the governor of Mombasa County and the decision of the Supreme Court has affected me financially," Sonko argued.
The former governor also requested the court to declare that his right under Article 50 was infringed in the Supreme Court petition against the Clerk, Nairobi City County Assembly.
In July 2022, the Supreme Court squashed a case challenging Sonko's impeachment as Nairobi governor.
According to the Supreme Court, the case lacked jurisdiction to determine the appeal.
The apex court also ruled that there was sufficient public participation when the motion to impeach him was tabled. A survey was conducted and it was advertised in a local daily newspaper.
Before the August 9 General Election, Sonko was uncertain of his name being on the ballot papers. He had moved to court to prevent the Independent Electoral and Boundaries Commission (IEBC) from printing ballot papers for the Mombasa gubernatorial race.
Former Nairobi Governor Mike Sonko during his impeachment hearing in December 2020.
Source: kENYANS.CO.KE