Residents and passers-by along Mombasa Road scrambled for bales of Unga after a lorry transporting the commodity overturned on Friday, September 23. 
The lorry overturned near Ole Sereni Hotel at the Southern Bypass junction as seen in a video doing rounds online. 
Following the accident, bales of maize flour were scattered all over the highway, some spilling into the drainage. 
Leading the line were boda boda riders who packed the bales on their bikes. Some motorists also alighted from their vehicles to scramble for the commodity which is currently trading at between Ksh200 and Ksh250 for a 2 kilogram packet. 
The scramble and commotion blocked some lanes along Mombasa road, causing traffic disruption along the busy highway.
However, the cause of the accident was not yet established. The police had also not yet issued a statement on the incident by time of publishing. 
Maize flour prices hit a record high in 2022 despite the government releasing billions of money to subsidise the product. 
Kenyans have been digging deep in their pockets to buy maize flour which featured heavily in the campaigns. 
President William Ruto argued that the subsidies released were only benefitted by a few unscrupulous individuals.
In a bid to lower the maize flour prices, Ruto released a Ksh3.5 billion subsidy for fertilizer and reduce the price of the farm produce from Ksh6,500 to Ksh3,500 per 50kg bag. 
However, farmers were barred from purchasing more than 100-50kg subsided bags of fertiliser.
Deputy President Rigtahi Gachagua flaged off the first batch of the subsidised fertilizers on Thursday, February 22.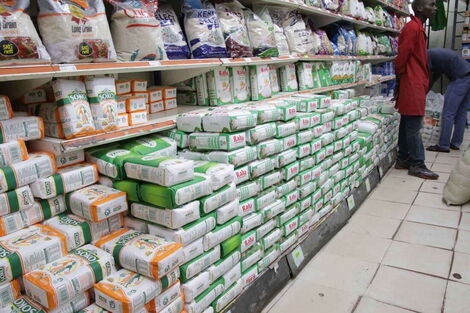 Maize flour stocked at a supermarket in Kenya.
File
Source: kENYANS.CO.KE