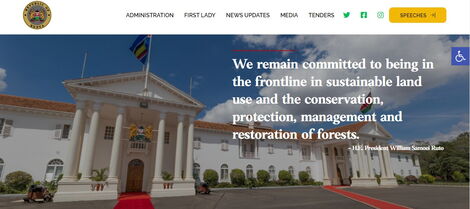 President William Ruto unveiled the official presidential website after three months of shutdown.
In the new website seen by Kenyans.co.ke on Thursday, December 14, a photo of the State House was used as the main website's image with Ruto's quote placed on top of the photo.
For the theme colours, Ruto incorporated yellow, black and green as included in the presidential standard.
Additionally, the president added special features targetting Kenyans with special needs. On the website, one of the unique features included was the accessibility tool symbolised with a wheelchair icon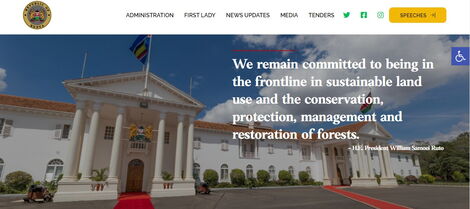 An image of the main page of the presidential website.
PSCU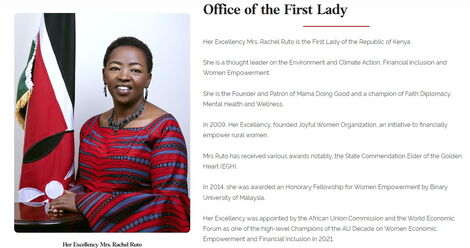 A screengrab of the presidential website detailing the biography of First Lady Rachel Ruto.
PSCU
The icon included options for increasing text, decreasing text, changing the website contrast and changing the font of the website.
Ruto's previous speeches and engagements were also detailed in the speech sections.
The biographies of Ruto, First lady Rachel Ruto, Deputy President Rigathi Gachagua and Prime Cabinet Secretary Musalia Mudavadi were also made available.
Cabinet briefs, videos and accreditation for journalists intending to cover State House events were also incorporated into the website
Also included were the links to the official social media handles of State House.
However, State House indicated that the website was still under development as more information would soon be added. 
The presidential website – www(dot)president(dot)go(dot)ke – was shut down on September 13, 2022, after Ruto took the oath of office. 
Previously, the website was constructed with former Uhuru Kenyatta's blue theme colour and photos.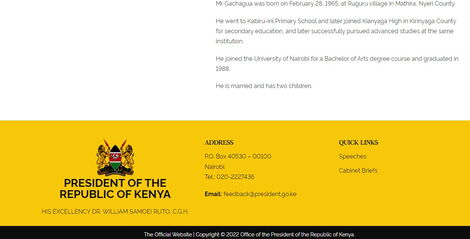 A screengrab of a section of the presidential website.
PSCU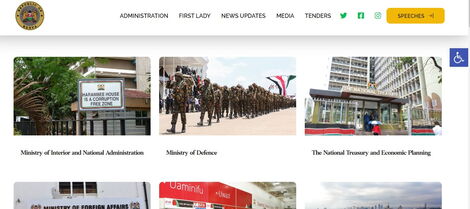 A screengrab of the presidential website detailing various ministries in President William Ruto's administration.
PSCU
Source: kENYANS.CO.KE