The National Transport and Safety Authority (NTSA) has called for fresh registration of digital taxi-hailing companies operating within the country.
In a notice issued by Director-General George Njao on Monday, October 3, NTSA gave all companies 14 days to enroll with the Authority – a decision reached during a meeting of stakeholders in the transport industry.
Njao explained that the directive comes in line with the implementation of the Transportation, Network Companies (TNC), Drivers, and Passenger Rules that took effect on June 20.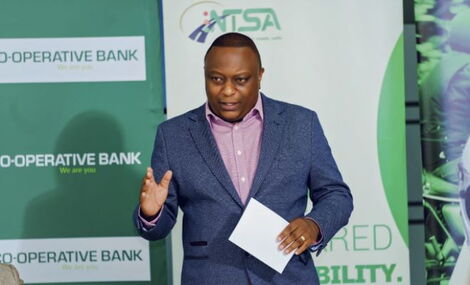 NTSA Director General George Njao addresses delegates at a past event.
File
"All current and prospective Digital hailing companies desirous to be licensed as Transport Network Companies are required to submit their applications for licensing by Monday, October 17," read the document in part.
The companies as well as drivers were further directed to familiarise themselves with the new rules. A copy of the document as well as the registration forms will be available on the www(dot)ntsa(dot)go(dot)ke under the 'notices' section.
Duly filled out forms should be deposited at the registry at NTSA's Head Office at 316, Upper Hill Chambers, ninth floor.
The rules came into play following concerns raised by the members of the public over the conduct of some of the cab drivers and companies offering digital taxi services.
In line with this Transport Cabinet Secretary (CS) James Macharia revealed 17 guidelines needed to be followed by the operators to tame the waywardness witnessed in the business.
In a document published on July 7, Macharia put cab drivers who intentionally take longer routes to earn more from customers would be liable, upon conviction, to a Ksh20,000 fine or a jail term of six months or both.
Drivers have been banned from modifying the windows of their vehicles, engaging in drug or substance abuse while on duty, and operating more than eight hours in a day.
They would also be required to give passengers receipts of their travel. Nonetheless, the new regulations also tame the behaviour of clients.
Customers were restrained from using offensive language or gestures, acting in a disorderly manner, causing physical harm to drivers, damaging vehicles, and engaging in substance abuse.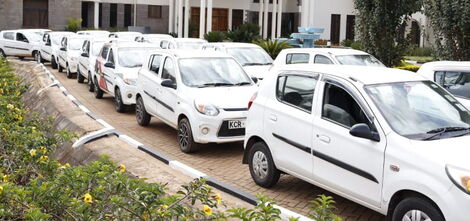 Vehicles belonging to taxi operators who met Deputy President William Ruto at his Karen residence on October 2, 2020.
DPPS
Source: kENYANS.CO.KE