Daily Nation journalist, Mwangi Muiruri, assaulted by security officers attached to second lady Dorcas Gachagua was traumatised following the incident on Thursday, November 24.
Speaking after recording a statement at Kaguku Police Station in Murang'a County, Muiruri confirmed that he lost his phone and Ksh55 in the altercation.
Explaining what transpired, the Nation correspondent in Murang'a County insisted that he did not defy Dorcas's security protocols at Gatanga during a food donation drive.
"In the process of I executing my duties of recording the event as it happened, some overzealous officers from her security detail (Dorcas Gachagua) grabbed my phone and in the process of retrieving it back, they assaulted me," Muiruri lamented.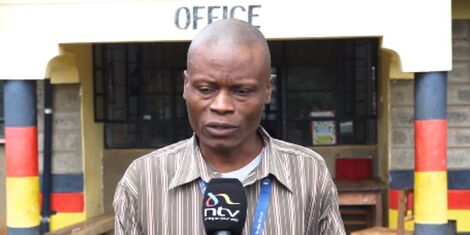 Daily Nation journalist Mwangi Muiruri speaking after recording a statement on Thursday, November 24, 2022.
NMG
Following the incident, Muiruri vowed to launch a drive to champion the rights of journalists in the country.
He feared that the profession would be ruined if injustices against journalists continued to be perpetrated.
"We are going to pursue it so that justice can be done and pass the statement that media is not there by default on the ground, it is there by right.
"When these incidents happen, they can be rest assured that they will be pursued to their logical conclusion because I lost a phone and Ksh55," Muiruri remarked.
That was the second physical assault incident meted out on Muiruri in less than a year. 
On November 14, 2021, Muiruri was roughed up while taking photographs of President William Ruto (then Deputy President) during the official opening of Kangari United Dairy Cooperative Society.
The Daily Nation journalist was later apprehended and accused of breaching Ruto's security protocol.
"I just asked the officer why he was interfering with my work as I was recording a video. Instead, he pushed out of the dairy society compound, roughed up before I was handcuffed," Muiruri stated after the incident.
To address cases of journalists being attacked in their line of duty, the Media Council of Kenya (MCK) asked the aggrieved people to file complaints regarding any journalist through the Media Complaints Commission.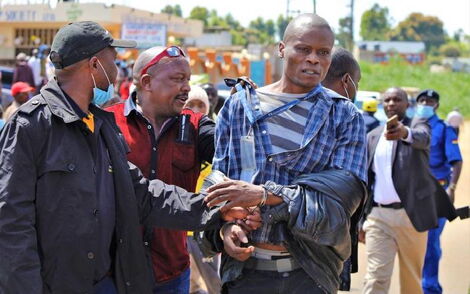 Daily Nation journalist Mwangi Muiruri handcuffed after an altercation with security officers on November 14, 2021.
Standard
Source: kENYANS.CO.KE