Trans-Nzoia Governor George Natembeya on Thursday, September 22, unveiled a raft of measures after the Ebola outbreak was reported in Mubende District, Uganda.
Speaking to the Media, Natembeya said that Kenya and in particular, Trans-nzoia specifically borders Uganda at Suam, and it is important to upraise the County on the preparedness.
"It's my honour to appraise you on County preparedness following declaration of Ebola virus disease in Mubende District Uganda on 11th September 2022," Natembeya stated.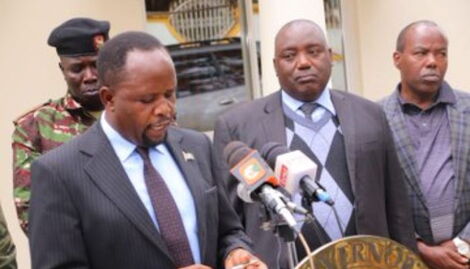 Trans-Nzoia Governor George Natembeya among other county officials issuing a statement on the Ebola outbreak on September 22, 2022
Twitter
George Natembeya
The former Rift Valley Regional Commissioner further stated that the county is monitoring the situation to avert chances of exposure.
"Our county is currently monitoring the situation with an aim of averting possible introduction of the disease , we anticipate few challenges like passage of travellers in undesignated crossing points and general logistics,"
The governor's statement comes in the wake of an advisory notice by the Ministry of Health Cabinet Secretary Mutahi Kagwe, explaining that Kenya's proximity with Uganda is a risk factor.
Kenyans across the 47 counties were advised to watch out for symptoms related to the disease which include vomiting and diarrhea.
According to Natembeya, the new measures will be undertaken by security agencies, health workers and the general public to curb any possible case.
The officers will oversee the reactivation of the rapid response team at county and subcounty levels.
The county government will map out all illegal entry points with a view of minimising cross border movements.
Additionally, the former RC stated that the his government will develop contingency planning for logistics and supplies. 
On the other hand, Ministry of Health drawn from the county, will enhance surveillance at border points to quickly pick suspected cases.
The second governor of Trans-Nzoia has also prioritized sensitisation of health workers on infection prevention and control.
According to the World Health Organization – WHO, Ebola virus disease (EVD) is a rare but severe, often fatal illness in humans.
The virus is transmitted to people from wild animals and spreads through human-to-human transmission.
WHO states that, "The average EVD case fatality rate is around 50%. Case fatality rates have varied from 25% to 90% in past outbreaks."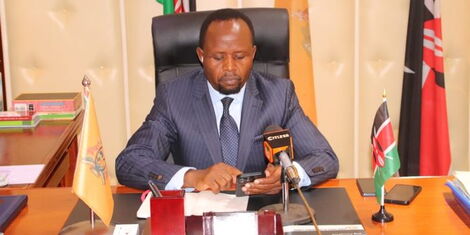 Trans Nzoia governor George Natembeya in his office on August 31, 2022.
Courtesy George Natembeya
Source: kENYANS.CO.KE