The  National Authority for the Campaign Against Alcohol and Drug Abuse (NACADA) on Tuesday, March 14 flagged a viral job posting calling for applications.
In the job advert, job seekers were promised over 3,100 vacancies with permanent and pensionable benefits.
However, NACADA noted that the advert was aimed at duping gullible and desperate job seekers in the country.
"We wish to inform members of the public that the announcement is fake and should thus be dismissed with contempt," NACADA clarified.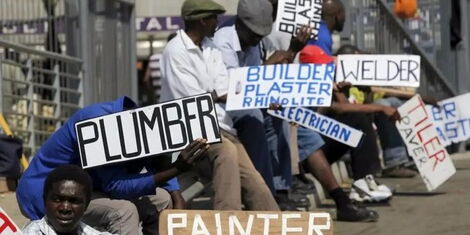 An image of jobseekers holding placards along a road.
File
Additionally, NACADA urged Kenyans to be on the lookout for fake job postings that target desperate job seekers in the country.
The government institution further emphasised that it does not charge for any application and neither does it engage individuals to conduct the hiring of staff on its behalf.
"Unsuspecting members of the public are further cautioned against falling prey to crooked individuals posing as employees of NACADA soliciting money from them in the name of securing their employment positions," NACADA warned.
According to the fake job post, a degree, diploma, or certificate from a recognised institution was required as well as proof of no criminal record to be considered for the different positions.
Some of the jobs advertised include social workers, human resource officers, auditors, electricians, cleaners, business managers, counsellors, nurses, rehabilitation officers, and public health officers among others.
The deadline for the recruitment was scheduled for March  27, 2023, at 4 pm and only shortlisted candidates were to be contacted.
With the high rate of unemployment in Kenya, job seekers are advised to be cautious while applying for jobs to avoid being conned.
They are urged to look out for red flags in fake job advertisements including typos, grammatical errors, and exaggerated salary promises.
In the fake job advert, there was a grammatical error that should alert job seekers, "By closer of business March 27, 2023, at 4 pm." 
Other indicators include asking for money, jobs sent via personal email, and links leading to unsecured websites.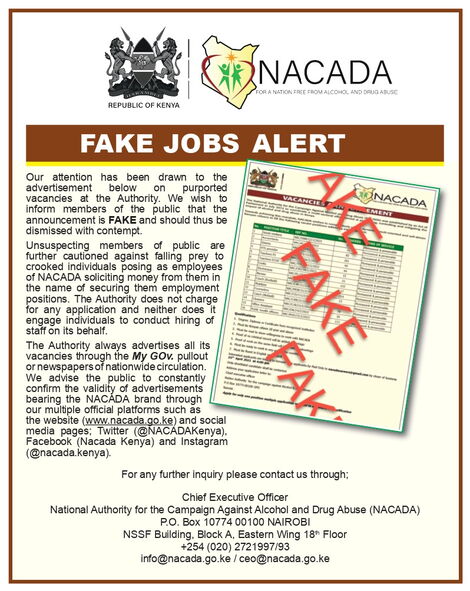 A fake job advert flagged by NACADA on Tuesday March 14, 2023
Twitter
NACADA
dead
criminal
suspect
scam
Source: kENYANS.CO.KE