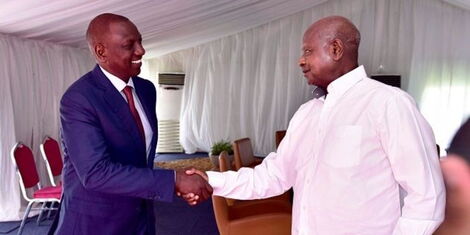 Ugandan president Yoweri Museveni on Sunday, October 16, confirmed that the country owns vast land in Naivasha, Nakuru county and Mombasa counties. 
Speaking to KTN News, President Museveni noted that former president Uhuru Kenyatta gifted Uganda a piece of land in Naivasha for the construction of a dry port. 
In addition, he was also gifted another piece of land in Mombasa to enable ease of trade from the coastal county.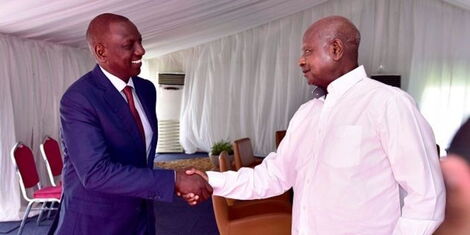 President William Ruto and Ugandan President Yoweri Museveni at a past meeting in Uganda.
Yoweri Museveni
"Yes, we have pieces of land in Mombasa and also in Naivasha. I don't have the details but I know we do. It's good because the coastal countries can make a lot of money from the hinterland hence you can produce and send things through there and pay taxes and there's mutual benefit," he stated. 
In addition, Museveni steered clear of Kenya's politics, noting that each country was faced with its own dynamics- whereby some decisions may seem outrageous by external forces but are justifiable by the citizens of the particular country. 
Further, the Ugandan president defended his son General Muhoozi Kainerugaba's outburst on Twitter that had threatened the diplomatic ties between the two countries. 
He noted that the succession matrix was a task left to the Ugandan people- hinting that the country focuses on particular values of a person rather than his affiliation. 
"I believe in suppressing the negative and encouraging the positive. You know Uganda leaders are not elected by Twitter. When the time comes for leadership, he will be audited," he stated. 
Uhuru, in 2019, gifted Museveni the vast land in Naivasha in a bid to forge relations with the neighbouring country. Further, both Uhuru and Museveni expressed the need to extend the Standard Gauge Railway (SGR) to Kampala through Malaba. 
"We also look forward to partnering on other projects with our Kenyan brothers. For example, they have offered us land to build a dry port at Naivasha. The SGR is a project we are partnering on," Museveni stated at the time. 
"The SGR train had evidently improved transport of cargo from Mombasa to Nairobi and I am now keen on the joint development of the SGR line to Kampala in Uganda," Uhuru added. 
The Naivasha port would act as a base for Uganda's cargo that lands at Mombasa port. 
The Standard Gauge Railway (SGR) trail at a railway station
File
Source: kENYANS.CO.KE