Members of Parliament on Wednesday, February 23 pin-pointed fluctuation in the value of the Kenyan Shilling as one of the factors leading to high costs in servicing Kenya's debts. 
During a debate in the National Assembly, lawmakers decried the huge percentage of Kenya's expenditure going to servicing public debts, largely accumulated during retired President Uhuru Kenyatta's regime.
According to legislators, Kenyans were left struggling to pay loans at a higher rate owing to the changes in foreign exchange rates between the time of borrowing and the time of servicing debts. 
Abdi Shurie, who is the Chairperson of the Public Debt Committee tabled a report indicating that over Ksh1.55 trillion was set aside for the purpose of servicing Kenya's debts in the latest supplementary budget, which was more than the expenditure earmarked for development projects.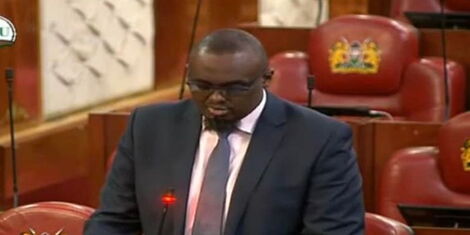 Balabal MP Omar Abdi Shurie addresses the National Assembly on February 23, 2023, at Parliament Buildings.
Parliament of Kenya
In his submission, the MP noted that the largest expenditures under the funds meant to service debts were interest and principal payments of Kenya's public stock of debt that has grown over time. 
Kenya's debt, as per the committee, stood at Ksh9.15 trillion in December 2022, meaning that Kenyans will be required to raise Ksh1.36 trillion by June 2023 to service the resulting public debt.
In their reactions, MPs described the insatiable appetite for loans as a matter of concern, hence necessitating concrete solutions aimed at lowering debt levels.
They called for more measures from the government to protect taxpayers from the effects of fluctuations in foreign exchange rates. 
In particular, Kitui Central MP and the Public Debt Committee's Vice Chair Makali Mulu proposed that the government should negotiate to secure debts in Kenyan currency in the future to avoid a repeat of the trend burdening Kenyans with principal payments.
"It is worth noting that, as a result of these exchange rate fluctuations, this country paid Ksh5.4 billion in 2021/22. For half of this year, we have paid Ksh2.05 billion as a result of changes in exchange rates.
It is important for us to negotiate loans in local currency, and agree at the time of negotiating on a fixed rate," the MP remarked. 
On his part, MP Shurie promised to continue with the audit of Kenya's public debt management and subsequently report to the National Assembly for public awareness. 
"The Consolidated Fund is the cash basket for this country and Parliament and Kenyans should know how this cash basket is being utilized. We will be bringing more reports on loans and the debt status of this country to the floor," Shurie noted.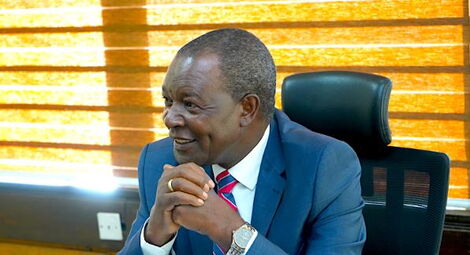 Treasury CS Njuguna Ndung'u chairs a bilateral cooperation meeting Czech republic and Kenya at the Treasury Building, Nairobi county on Wednesday, January 11, 2023.
Facebook
Treasury
Source: kENYANS.CO.KE