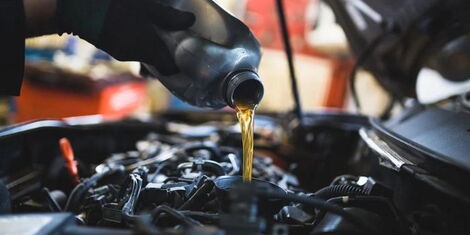 Before embarking on a long-distance journey, it is advisable to inspect a car to ascertain if it is fit to hit the road.
Besides saving costs incurred during a journey, the key inspections also protect other motorists on the road reducing cases of mishaps.
According to data from the National Transport and Safety Authority (NTSA), unroadworthy vehicles contribute to cases of road mishaps in the country. In June 2022, NTSA disclosed that only 400,000 out of 3.5 million vehicles in the country undergo roadworthiness inspection.
So to help motorists travel on time without encountering challenges, car enthusiasts advise motorists to run specific inspections.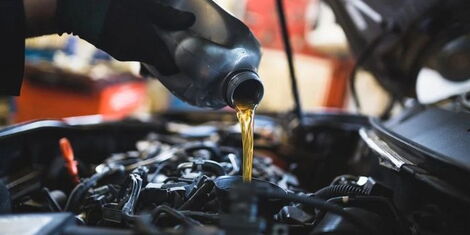 An image of a motorist refilling a vehicle's engine oil.
Toyota Energies
The inspections can be conducted at home, while professional mechanics are contacted for advance checks.
Among the key features which should be inspected before starting a trip include the conditions of the tyres, brakes system, battery and oil system.
Tyres and Wheel alignments
Car pressure and thread can be inspected at home using different methods.  Threads help a car maintain its grip on the road, thus preventing mishaps.
Worn tyres can seriously affect your car's handling, braking and safety.
To confirm if the car tyre can travel long distances, it is advisable to take it for wheel alignment, which is done professionally by approved mechanics.
Checking for Oil and Other Fluids
Oil is vital in keeping a car engine running smoothly. Running on low oil could even damage the engine.
At home, motorists can check the oil level using a dipstick. However, modern cars have computers that display oil levels on the dashboard. Excess oil is also harmful to a car.
Also, engine coolant is important to check before embarking on a long-distance journey. Coolant keeps the car's engine healthy by regulating the cooling system's temperature.
Break fluid should also be checked by a motorist. This helps the breaking system function properly. 
Spark Plug
A mechanic should inspect spark plugs when taken for a general service before embarking on a trip. Any damages incurred on a spark plug can derail the entire journey.
Braking System
One cannot compromise the braking system when going out, even during short trips. The brake system is critical to avoid mishaps.
A faulty braking system is considered a traffic offence in the country, attracting heavy penalties.
Battery
File photo of a car battery
File
A petrol or diesel car's battery will degrade over time and thus need to be replaced over time. 
"Usually, this happens every few years, but it's important to keep an eye on how it's performing – if it drops below a certain operating level, your car won't start, leaving you stranded," Cazoo, a car dealership in the UK, stated.
Source: kENYANS.CO.KE