A Kenyan rally driver was admitted to the Intensive Care Unit (ICU) after his girlfriend allegedly stabbed in the heat of an altercation at their Nairobi apartment.
Senior principal magistrate Bernard Ochoi was told on Tuesday, December 13, that the celebrated driver's spouse inflicted a stab wound on his ankle, causing him to lose a lot of blood.
He was rushed to one of the city hospitals and was placed in the High Dependency Unit (HDU) on Monday, December 12.
An ICU bed at a health facility in Kenya.
Facebook
However, the accused, who attended the court proceedings virtually, claimed that the rally driver stabbed himself when trying to attack her.
Struggling to hold back her tears, she asked to be placed under witness protection – a request strongly objected to by the police officers investigating the matter.
Investigating offices painted a picture of the gory scene, stating that blood and shattered pieces of glass were scattered across the room.
They requested for the court to allow them to detain her for 14 days arguing that she was a possible threat to the sportsman whom they confirmed was in critical condition.
Magistrate Ochoi disclosed that he would make a ruling on the application made by the police on Wednesday, December 14.
In addition, he directed the media not to mention the names of the defendant and accused or use their images pending the determination of the matter
The court will establish who between the two was at fault. Meanwhile, the family of the rally driver has launched a blood-donation campaign for their kin. 
Notably, the case adds to the incidences involving a marital spat between Kenyan sportsmen and their spouses. 
Athletes have in the past appealed to the government to institute measures to ensure that the culprits responsible for the violence were brought to book.
"It is a call to our head of state and his team and all of us, in general, to come up with a way of taking care of our sportsmen and women.
 "It is my prayer that my beloved country will get to the place whereby we will be able to put all those responsible to account," World Marathon Champion Catherine Ndereba stated during the Agnes Tirop Conference held in January 2022.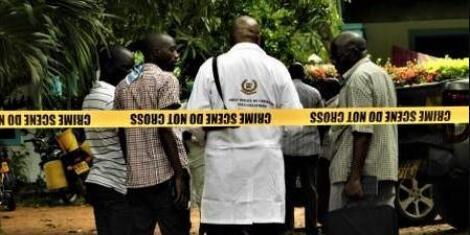 DCI detectives probe a crime scene in Kenya.
Source: kENYANS.CO.KE