The Kenya National Highways Authority (KeNHA) has announced a 12-hour closure of a section of Lang'ata road scheduled on Sunday, September 25.
In a traffic advisory by the road agency on Thursday, September 22, it was detailed that the closure was necessitated by the installation of a footbridge works.
KeNHA added that the installation of the footbridge would be done near T-Mall.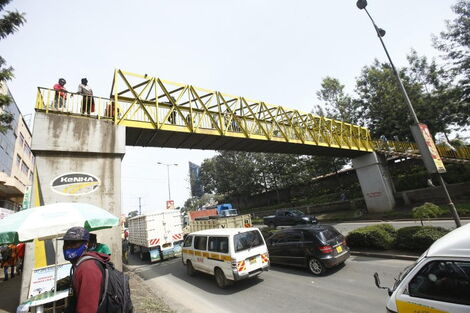 File image of footbridge erected by the Kenya National Highways Authority (KeNHA)
The Standard
"We wish to notify the public that a section of Langata Road, along the service lane (Nyayo bound lane) between T-Mall Roundabout and Madaraka Roundabout will experience traffic disruptions.
"This follows the planned closure of the road to pave way for the erection of the T-Mall River Footbridge. The installation of the footbridge is to ensure a continuous pedestrian walkway," read the notice in part.
Further, motorists were given alternative routes that can be used on that day to avoid unnecessary traffic snarl-ups and inconvenience.
Motorists to be affected are those using Raila Odinga highway – formerly Mbagathi way and Mai Mahiu road.
However, the road agency noted that traffic police would be deployed on the road to help motorists manoeuver their way.
"Motorists from Raila Odinga Way and Langata headed towards Madaraka Roundabout are advised to take Ole Sangale Link or Mai Mahiu Roads," read the notice in part.
It was also explained that the closure would guarantee the safety of motorists and pedestrians who are likely to get hurt during the installation.
KeNHA also noted that the advisory was issued in advance to enable motorists to plan their travel given that the disruption will take place over the weekend.
City roads are usually relatively busy on Sundays as Nairobians go to church and other recreational centers.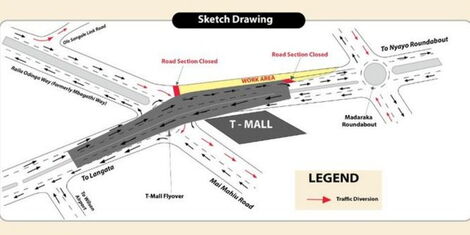 An image of alternative routes to be used by motorists following the closure of Lang'ata road on September 22, 2022.
Twitter
KeNHA
Source: kENYANS.CO.KE