For many years, the North Eastern region has faced severe drought and hunger. Drought has claimed lives of people and livestock as communities living in the region starve.
The majority of the communities living in North Eastern are pastoralists and depend on livestock as their source of income and livelihood.
Sometimes due to lack of water and pasture, pastoralist communities clash clash as they scramble for the limited resources.
However, the Kamuthe area in Garissa County has now become a beacon of hope. It was developed into a productive agricultural area after 55 young pastoralists formed a Sacco to start farming on a six-acre piece of land through irrigation along the banks of River Tana.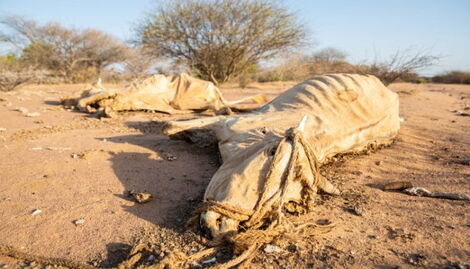 An undated image of Dead Livestock in drought-stricken County of Garissa
File
The new crop farming is touted as a game changer in the hunger-stricken County that has over the years lagged behind in development.
The farm which is located 50 Kilometers from Garissa town stands out as you can barely spot anything green in the vast region.
According to Hassan Mohamud, the Secretary General of the cooperative, they started as an association before transforming into a cooperative through the help of USAID and the Kenya Livestock Market Systems Activity (ImsKenya).
"We decided to venture into the business in 2018 after we lost hundreds of animals through drought. The situation was so bad that we did not have pasture for our livestock,"
Additionally, Mohamud says that frequent drought is what led them to think about fodder farming. He also urged extension officers to train and equip them with the knowledge to enhance effective farming.
Further, the farmers are dreaming of increasing the current six acres to 75 to have enough fodder and supply to other parts of the County and within the North Eastern Region.
To farmers here, death of livestock because of drought is now a thing of the past for the last four years. The animals are also their source of livelihood.
To secure the farm, they employ the services of a guard to keep thieves and intruders at bay.
The farmers have now called on the government to embrace such initiatives and support farmers in a bid to find a lasting solution.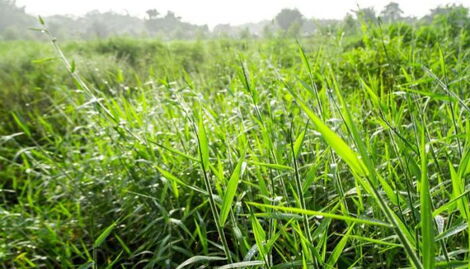 An undated image of fodder crops growing in Kamuthe farm in Garissa County
File
Source: kENYANS.CO.KE