Japhet Koome's nomination as the next Inspector General by President William Ruto stirred controversy as a section of Kenyans wondered whether it was done procedurally.
Consequently, a section of media houses and lawyers cited the 2010 Constitution of Kenya and the National Police Service Act revised in 2012 which stipulate that a vacancy for the IG's post must be gazetted and interviews conducted before appointment by the president.
In particular, many cited the role of the National Police Service Commission (NPSC) in conducting interviews for the IG.
However, after conducting a fact check, Kenyans.co.ke established that the President was in order to nominate the new IG following the exit of Hillary Mutyambai.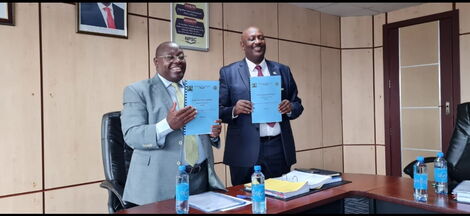 NPSC Chairman Eliud Kinuthia (left) and former IG Hillary Mutyambai at his office.
Facebook
Eliud Kinuthia
The law was revised in 2014 changing the procedure for nominating the police boss.
According to the NPS Act revised in 2014, the President has the power to nominate a candidate for the IG's post should there be a vacancy.
Notably, the law does not provide for a window for the process to be conducted by the NPSC.
"The President shall, within fourteen days after a vacancy occurs in the office of the Inspector-General, nominate a person for appointment as an Inspector General and submit the name of the nominee to Parliament.
Parliament shall, within fourteen days after it first meets after receiving the names of the nominee consider the suitability of the nominee; either approve or reject the nominee for appointment; and the Speaker of the National Assembly shall notify the President of the decision of the Parliament," reads the act in part.
Following his nomination, Koome is set to be vetted by parliament in the coming days before taking over from his predecessor Mutyambai.
Mutyambai resigned from the position citing his health concerns as the reason behind his decision to quit before his tenure ends.
"IG Police Mutyambai for his request to proceed on terminal leave because of his health situation.
"After discussions with Mutyambai and in consideration of his service to the nation and his health, I have accepted that he will proceed on terminal leave in the six months that he has on his contract," Ruto stated then.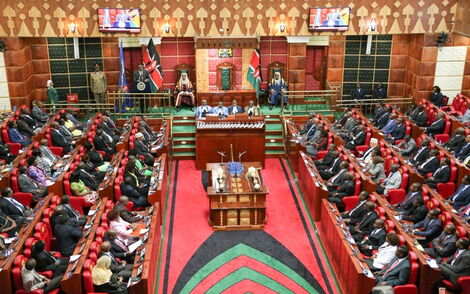 Members of Parliament during a session in the 12th Parliament.
KBC
Source: kENYANS.CO.KE