The Ethics and Anti-Corruption Commission (EACC), Tuesday, November 222, sought court permission to recover a grabbed piece of land worth Ksh100 million.
EACC told the court that the land belonging to the Kenya National Highways Authority (KeNHA) was grabbed by former Commissioner of Lands Sammy Mwaita who irregularly transferred the 3-acre (1.5 hectares) piece to his brother.
"EACC has secured injunction orders from the Nakuru Environment and Land Court against Hillary Kipkorir Mwaita who the Commission has sued for grabbing public land valued at Ksh100,000,000, where KeNHA is currently constructing its regional headquarters in Nakuru," reads a section of the document.
EACC also obtained injunction orders barring Hillary Kipkorir Mwaita, his brother Sammy Mwaita and the Chief Land Registrar from transacting anything deed on the land.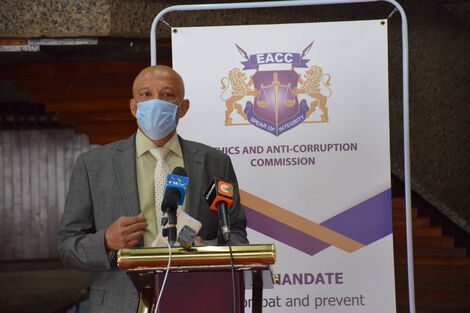 EACC CEO Twalib Mbarak after presenting a cheque to the Kenya Covid-19 Fund on April 28, 2020.
Twitter
Nakuru Environment and Land Court was told that Sammy Mwaita allegedly committed the offence while serving as the commissioner in 1998.
"The then Commissioner of Lands Sammy Mwaita illegally and irregularly allocated the parcel of land to his brother Hillary Kipkorir Maida using a forged Part Development Plan (PDP) Reference No. R7/98/188 which does not exist in the Directorate of Physical Planning records," EACC stated.
The anti-graft agency also enlisted Chief Land Registrar as the third defendant, in the case where Kipkori is the first while his brother Sammy is the second defendant.
However, EACC lamented that defendants had refused to give back the land to the government despite the Commission securing an order for the land to be surrendered back to the state.
Nakuru Environment and Land Court was informed that the defendants had failed to adhere and the first respondent had even stopped KeNHA from continuing with the construction.
EACC has, therefore, sought a court order that would permanently bar the first defendant who possesses the title deed from interfering with the said property. 
"That unless this Honourable Court grants an order prohibiting the 1st defendant from transferring, wasting, charging, damaging and/or dealing with the suit property, the course of justice will be defeated and the efforts by the Plaintiff to recover the suit property will be in vain," read the orders by Advocate Brigid Maina.
EACC wants Nakuru Environment and Land Court to order the Chief Land Registrar to cancel the entries relating to lease certificate issuance.
The court has been asked to declare the initial land allocation and transfer to Hillary Kipkorir as illegal.
Nakuru Environment and Land Court Justice Anthony Ombwayo noted that the case will be heard on January 26, 2023.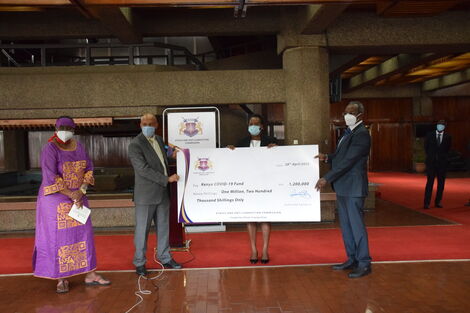 EACC CEO Mr. Twalib Mbarak (Left) and his Vice-Chairperson Sophia Lepuchirit (Right) presents a cheque to the Chairperson of the Kenya Covid-19 Fund, Jane Karuku on April 28, 2020.
Twitter
Source: kENYANS.CO.KE