Members of Parliament on Thursday, March 16, summoned former Treasury Cabinet Secretary Ukur Yatani over the Ksh6 billion Telkom buyout saga.
Members of the Departmental Committee on Finance made the decision in their endeavour to unearth the legitimacy of the deals made in the alleged scandal involving officials in former President Uhuru Kenyatta's administration.
The alarm bell in the matter was raised after MPs declined to approve budget allocation to pay for the buyout of the shares citing a lack of transparency. 
It was alleged that senior government officials in the former regime oversaw the transaction of the Ksh6 billion four days before the 2022 General Election without seeking regularisation from the relevant offices.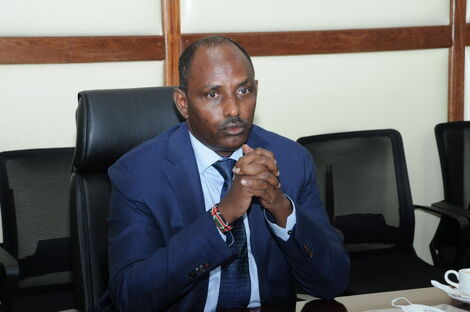 Former Treasury Cabinet Secretary Ukur Yatani in a past meeting.
Twitter
Subsequently, the Finance Committee under the leadership of Molo Member of Parliament Kuria Kimani undertook to investigate the process followed in the withdrawal and payment of the Ksh6 billion to the foreign company months before the August 2022 election.
If he appears, Yatani will be the first CS from the former regime to answer questions relating to decisions made during their tenure in office. 
Former Head of Public Service Joseph Kinyua was also summoned by the same committee to answer questions on the same takeover.
However, members of the committee reiterated that the summon did not implicate any of the mentioned officials but was an effort to shed light into the dealings. 
Among the witnesses targeted in the probe included senior Treasury officials in the former administration. 
"We will commence an inquiry next week (this week) to ascertain how the disbursement was approved, effected, used, and whether the necessary conditions for such disbursement as provided under Article 223 of the Constitution and subsidiary laws were followed," Kuria Kiamani noted during a past committee session. 
More to follow…
Source: kENYANS.CO.KE