Munira Abdifatah Abdi, a student based in Eastleigh, Nairobi scooped Ksh2 million after emerging top ten in the 2022 Quran recitation championship held in Dubai.
The 15-year-old finished eighth from a pool of 300 competitors across the world- an astounding feat for the 15-year-old to achieve. 
The competition brought together thousands of students across different countries to test their prowess in reciting sections of the Islamic holy book.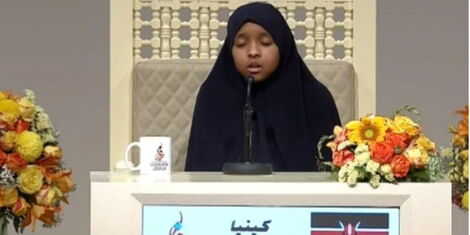 Munira Abdifatah Abdi recites during the 2022 Quran recitation champion held in Dubai on October 12, 2022.
Nation
While addressing the media after her momentous win, she expressed gratitude for the win and global recognition. 
"I am grateful that I finished among the top ten competitors in Quran recitation in Dubai from a pool of 300 competitors across the world," she stated.
The student, who schools at Mus'ab Educational Centre based in Nairobi's Eastleigh, noted that her seven-day trip was fruitful as she got a chance to interact with her peers and exchange different points of view. 
"I would like to be a diplomat after school just to be out there representing my country and learning more from other people on how to improve lives back at home," she noted. 
Director Mus'ab Education Centre, Jimale Sheikh lauded Abdi's win, pointing out that the centre strives to prepare students for such competitions. 
"This is our second student to win in the competition and we shall keep preparing more others and send them to compete because it is part of our curriculum," he noted. 
"We still offer Islamic classes alongside the formal education programme and our performance in the national examination remains excellent," he added.
Abdi previously scooped awards in local and East African-based competitions held in the past two years. In May 2021, 15-year-old Yunus Masoud scooped the annual Quran competition award that pitted students from across the continent.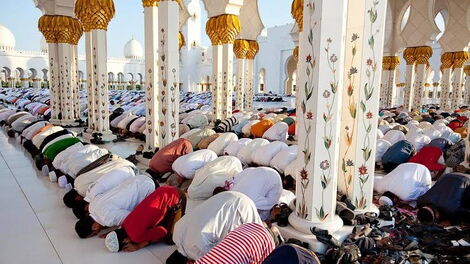 Followers of the Muslim faith worshipping inside a mosque.
Twitter
Source: kENYANS.CO.KE